Historic, Charming, Exceptionally Unique
The South Loop features some of Chicago's most magnificent attractions. From world-famous museums and historical architectural structures, to gourmet dining and entertainment, this region is a wonderful place to explore.
Shedd Aquarium: 1200 S Lake Shore Dr
The Shedd Aquarium is a massive indoor aquarium in the South Loop, opened May 30, 1930. The five million US gallon aquarium was for some time the largest indoor facility in the world. Today it holds some 32,000 animals. Shedd Aquarium was the first inland aquarium with a permanent saltwater fish collection. Located on Lake Michigan in Museum Campus, South Loop
Field Museum: 1400 S Lake Shore Dr
The Field Museum of Natural History is a natural history museum and one of the largest of this type in the world. The museum maintains its status as a premier natural-history museum through the size and quality of its educational and scientific programs, as well as due to its extensive scientific-specimen and artifact collections.
The diverse, high-quality permanent exhibitions, which attract up to two million visitors annually, range from the earliest fossils to past and current cultures from around the world to interactive programming demonstrating today's urgent conservation needs. 
Adler Planetarium: 1300 S Lake Shore Dr
Adler Planetarium opens up a whole new universe. Shows, exhibits, theaters and galleries complement the observatory. The Adler provides astronomy education for students, adults and families through a variety of course offerings, lectures, and other special events. Its museum features some 2,000 historic astronomy, navigation, and mathematics instruments.
Opened in 1930, the Adler was the first planetarium built in the Western Hemisphere. Its namesake and founding benefactor, Max Adler, was a Sears, Roebuck officer and early stockholder.
Northerly Island: 1521 S Linn White Dr
Northerly Island is a 91-acre man-made peninsula along the lakefront. The site of the Adler Planetarium on Northerly Island connects to the mainland through a narrow isthmus along Solidarity Drive. This street is dominated by Neoclassical sculptures of Tadeusz Kościuszko, Karel Havlíček Borovský and Copernicus. It has a huge conservation area with lakes and excellent biking.
Huntington Bank Pavilion also occupies part of the island where fantastic lakefront concerts are regularly held (or will be soon)!
Soldier Field: 1410 Museum Campus Drive
Soldier Field opened in 1924 and is the home field of the Chicago Bears, who moved there in 1971, and the Chicago Fire. It is the oldest stadium in the NFL.
The stadium's interior was rebuilt as part of a major renovation project in 2002. Soldier Field has served as the home venue for a number of other sports teams in its history, including the Chicago Cardinals of the NFL, University of Notre Dame football, as well as games from the 1994 FIFA World Cup, the 1999 FIFA Women's World Cup, and CONCACAF Gold Cup championships. In 1968, it hosted the first Games of the Special Olympics. Other historic events have included large rallies with speeches, including by Amelia Earhart, Franklin D. Roosevelt, and Martin Luther King Jr.
Burnham Park, 13th St Beach & Burnham Harbor
Burnham Park, 13th st. beach and Burnham Harbor are all in the Northerly Island / Museum Park area along the lakefront. The 598 acres of parkland is owned and managed by Chicago Park District. It was named for urban planner and architect Daniel Burnham in 1927. The park is an outgrowth of the 1909 Plan for Chicago developed by the park's namesake Daniel Burnham and often called simply "The Burnham Plan".
The park hosts some of the city's most important municipal structures, such as Soldier Field and McCormick Place. In the early 20th century, Chicago businessman A. Montgomery Ward advocated that the lakefront must be publicly accessible, and remain "forever open, clear and free", lest the city descend into the squalor typical of American cities of the time, with buildings and heavy industry destroying any chance for beauty.
The Art Institute: 111 S Michigan Ave
Founded in 1879, one of the oldest and largest art museums in the United States. Recognized for its curatorial efforts and popularity among visitors, the museum hosts approximately 1.5 million people annually. Its collection, stewarded by 11 curatorial departments, is encyclopedic, and includes iconic works such as Georges Seurat's A Sunday on La Grande Jatte, Pablo Picasso's The Old Guitarist, Edward Hopper's Nighthawks, and Grant Wood's American Gothic. Its permanent collection of nearly 300,000 works of art is augmented by more than 30 special exhibitions mounted yearly that illuminate aspects of the collection and present cutting-edge curatorial and scientific research.
Chicago Symphony Orchestra: 220 S Michigan Ave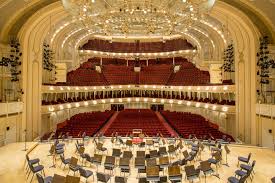 The Chicago Symphony Orchestra (CSO) was founded by Theodore Thomas in 1891. The ensemble makes its home at Orchestra Hall in Chicago and plays a summer season at the Ravinia Festival.
The music director is Riccardo Muti, who began his tenure in 2010. The CSO is one of five American orchestras commonly referred to as the "Big Five".
Harold Washington Library: 400 S State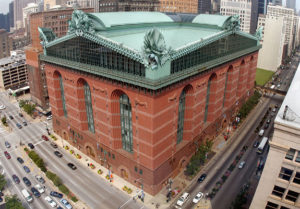 In 1987, Mayor Harold Washington ordered a design/build competition for a new central library in the South Loop. The City Council authorized the competition and the $144 million bond issue to finance the project on July 29, 1987. Based on both design and cost criteria, an 11-member citizen jury selected the design by Thomas Beeby from Hammond, Beeby & Babka, Inc. as the winner on June 20, 1988.
Groundbreaking took place October 13, 1988, using imported soil because the location at State and Van Buren streets was an asphalt-covered parking lot. Dedicated October 4, 1991, HWLC opened October 7, 1991. Named for Harold Washington (1922-1987), the city's first African American mayor.
McCormick Place: 2301 S King Dr
The largest convention center in North America, the center consists of four interconnected buildings and one indoor arena located along the lakefront about 2300 south. McCormick Place hosts numerous trade shows and meetings.
The largest regular events are the Chicago Auto Show each February, the International Home and Housewares Show each March and the National Restaurant Association Annual Show each May. Lately of course conventions are on hold but will be back soon.
Glessner House: 1800 S Prairie Ave
The John J. Glessner House is an architecturally important 19th-century residence. It was designed in 1885–1886 by architect Henry Hobson Richardson and completed in late 1887. The property was designated a Chicago Landmark on October 14, 1970. The site was listed in the National Register of Historic Places on April 17, 1970, and as a National Historic Landmark on January 7, 1976.
Grant Park: Columbus & Roosevelt
Grant Park is a huge park in the South Loop. The park's features along the northern section include Millennium Park and Buckingham Fountain. Originally known as Lake Park, and dating from the city's founding, it was renamed in 1901 to honor US President Ulysses S. Grant. The park's area has been expanded several times through land reclamation and was the focus of several disputes in the late 19th century and early 20th century over open space use.
It is bordered on the north by Randolph Street, on the south by Roosevelt Road and McFetridge Drive, on the west by Michigan Avenue and on the east by Lake Michigan. The park contains performance venues, gardens, art work, sporting, and harbor facilities. It hosts public gatherings and several large annual events. Grant Park is popularly referred to as "Chicago's front yard".
Museum of Contemporary Photography: 600 S Michigan Ave
The Museum of Contemporary Photography was founded in 1976 by Columbia College Chicago as the successor to the Chicago Center for Contemporary Photography. The museum houses a permanent collection as well as the Midwest Photographers Project, which contains portfolios of photographers and artists' work who reside in the Midwestern United States. The Museum of Contemporary Photography began collecting in the early 1980s and has since grown its collection to include more than 15,000 objects by over 1,500 artists. The MoCP is accredited by the American Alliance of Museums.
Wabash Arts Corridor: Wabash & Michigan between Ida B Wells Drive and 16th
The Wabash Arts Corridor is Chicago's living urban canvas in the heart of the South Loop neighborhood. Founded by Columbia College Chicago in 2013, WAC has grown to be one of the most expansive, diverse and accessible public art programs in the country. This community driven project weaves the visual, performing and media arts into daily life, immersing residents and visitors into artist-reclaimed public spaces that transform the urban experience.
Dearborn Station: 47 W Polk St
Dearborn Station was, beginning in the late 1800s one of six intercity train stations serving downtown. It remained in operation through to 1971. Built in 1885, it is at the South End of Printers Row along the Dearborn St retail and restaurant corridor. The station was owned by the Chicago & Western Indiana Railroad, which itself was owned by the companies operating over its line.
Tommy Gun's Garage: 2114 S Wabash – coming back soon
Tommy Gun's Garage is now the longest running dinner show in Chicago with 30 years behind it. The same gangsters & flappers that sing and dance in the show are also the waiters & waitresses, allowing for a more interactive experience. Good food, entertainment and music at Tommy Guns Garage.
Ludington Building: 1104 S Wabash
The Ludington Building is the earliest surviving steel-frame building in Chicago. Designed by William Le Baron Jenney and named a Chicago Landmark on June 10, 1996. It was added to the National Register of Historic Places on May 8, 1980. The Ludington Building was commissioned by Mary Ludington Barnes for the American Book Company. Presently it is one of twenty buildings that comprise the campus of Columbia College.
Bill Wenthen is amazing to work with! Sold our house in 48 hours and we had multiple offers. Bill is a pleasure to work with and will go out of his way to work with you every step of the process.
– BETH TOTH – CHICAGO SOUTH LOOP TOWNHOME PURCHASE & SALE
Bill helped me find my current residence in bucktown, he's very knowledgeable about the neighborhood and current market which was very helpful. I would recommend him to my closest friends.
– Darren Lim – Chicago Bucktown 3 Flat Purchase
Bill was a great choice to handle these of my property. He stayed on task and took responsibility from start to finish. Giving me weekly updates. I never received any complaints and he got the job done. If you're looking for someone to handle a sale for you Bill would be great pick.
– Reyes
Bill's integrity is stellar. He's persevering. He's adaptable to market conditions and to buyer preferences and tastes. He's knowledgeable in both the Chicago Real Estate market including the local South Loop market. He was able to sell our house in a down market.
Bill sold two homes for us in the South Loop and Little Italy in the last five years in the slow time of the year (over the holidays). He is energetic and effective. We have recommended his services and will continue to do so.
Let's Start your Journey into Chicago Real Estate
Address
1404 S Plymouth Court
Chicago, IL 60605